Our English Language Courses
Preparation for IELTS exam (With tutor in Odessa, Ukraine or online)
Language Courses for students of any age (on this page)
"Language School" Package
Cost of our service – 1350$CAD
The package includes:
Help in choosing the right language school
Admission to the language school
Government fees
Visa and study permit
The cost of language courses is not included in our package. The cost varies between 200 and 320$ per week depending on the number of hours and the program that you need. The shortest program is 2 weeks.
Cost of living is also no included – 220$ per week.
English for students who plan to apply to college/university "Intensive English"
English is considered to be the most internationally used language and it is spoken across 85 countries, with over a billion people communicating with each other. It is not surprising that so many people are seeking to learn this language. Here are some reasons to do so:
you are able to move to any place you want;
higher paying jobs;
education in Europe and America;
vacations
Every individual has their own reason to learn English, yet what connects every person is the desire to speak correctly, fluently and quickly. We can help you to achieve these goals. We offer the perfect conditions for you to to learn this language in Canadian language schools and university programs.
Language Classes in Canadian Schools
We want to highlight that education in language courses are available to everyone, and it does not matter what level the student is at. We offer 8 levels of learning – from the basic to proficient. The length of the programs/classes depends on your abilities. You can choose form the following courses (one week blocks):
«Moderate» – up to 22 hours of classes
«Intensive» – up to 25 hours of classes
«Very Intensive» – up to 40 hours of classes
The last option consists of combined programs, which includes group classes and individual classes with the professors. Any of the listed above choices include trips and gatherings where you are able to practice your communication skills, as well as speaking abilities with the fluent speakers. The shortest course is 3 weeks in length, and the starting cost is $200/week. 
Canadian language courses will improve your English speaking skills, which will positively impact your further education in Canadian schools. You will learn to comprehend information, write essays, as well as read in English. Also, you will gain general and basic knowledge, which will be helpful and necessary for your everyday school life.
We want to point out, that it is very easy to create a time table that will work for you, because classes are pretty flexible. After completing the studies students get a certificate. Remember that in order to apply to colleges, universities, etc. you will have to pass IELTS and TOEFL exams, school certificate is not enough.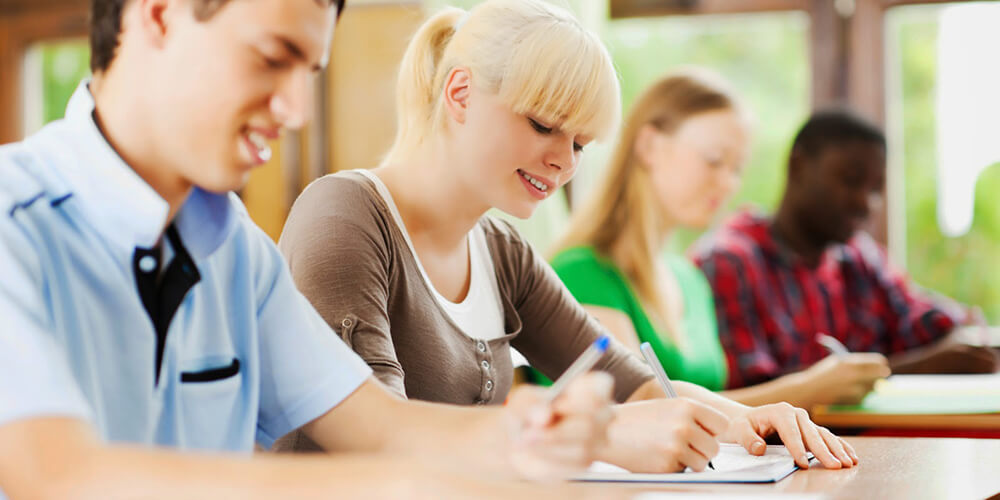 English courses before College/University
One of the most special things about Canadian education system in colleges and universities is that the courses are taught in a way in which students are able to improve their speaking skills even further, without any major difficulties. Moreover, students have the opportunity to work part-time in university campuses and have access to:
internet;
gym;
library;
ESL helping centre.
Students who don't have a satisfactory IELTS or TOELF result can get a conditional offer from colleges and universities. They will be allowed into the program of their choice once they finish the English courses in their college.
There are 9 levels in such courses, each level takes 8 weeks to complete. Student's entry level in determined with a placement test. You only have to take the test once you come to Canada; you can do so in our office or online. 
The average cost of one level is $ 3,000 CAD. 

On top of being able to get learn English, you will be able to gain practice for further education in Canada. You will have to prepare your homework and assignments, and learn how to present well by doing your major assessments and presentations — all of it will greatly benefit you in the future and in your carrier.
Our company does not only help you to get VISA to Canada to live and study here and choose your language courses, but we will also help you to choose your academic program where you will learn English. Those are:
University College Transfer;
University Foundation Program;
English Academic Pathway Program;
Academic Preparation.
And others, and the list is very long.
We will help you to put together and prepare the necessary documents, and help you choose the best language courses.
What is special about those programs are the conditions you learn in, and the privileges when you apply for college and university programs in Canada. It is possible to find the right program for a high school student, college/university student, as well as an adult. Canada is one of the best countries in terms of language courses.
Preparation Courses for IELTS
It is a mandatory examination for all international citizens, who come to Canada to work, study or stay as permanent residents. Because of this, there is a special course, prepared by certified specialists that is there to help you do well on IELTS Academic and IELTS General. It will take you around 4 months to prepare for the test. You will study with a teacher one-on-one and/or with a class with IELTS professors.
It is much easier to pass IELTS with our help. You can order a free lesson and see if it will work for you.
Want to know more? Use this form to email us and we will get back to you soon!